IMPEX SALES
Used containers with
the Impex quality
guarantee
As good as new ones only cheaper.
We possess a wide range of waste segregation products in different sizes, made of the best materials and coming from renowned German producers.
Very good technical condition has been confirmed by a two-stage verification based on the Impex Quality Standard.
Feel free to study our detailed offer.
Check our offer
2-wheel containers

4-wheel containers

Bell type containers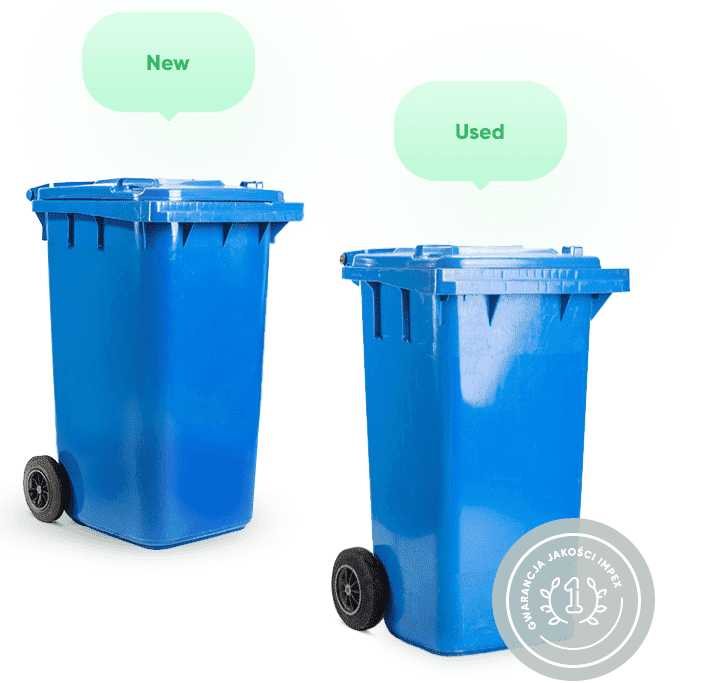 NEW OR USED CONTAINERS?
Do you know when a new container become a used one?
The answer is simple – just after its first use.
Upon a visual examination, a used container differs slightly from a new one, and sometimes it can even look better due to the fact that better quality materials were used to produce it.
Do not take our word for it, compare and see for yourself!
BENEFITS
Why have the used containers with the Impex quality guarantee been enjoying such a great popularity?
Learn about the top 6 reasons for which our containers are such an attractive and cost-effective solution.
They make it possible to prolong their service life thanks to the quality of materials used for their production

Our containers meet the most strict international quality standards. In accordance with the German standards, a higher percentage of the original PEHD material was used for their production and a lower percentage of admixtures. That is why their quality often surpasses the quality of the containers produced for the Polish market.

They come as a cheaper alternative which enables savings on the level from 20% to 50% of the tender costs

A growing number of people responsible for purchasing in municipal services departments are beginning to notice the fact that the purchase of used containers makes it possible to generate significant savings and to increase the profitability of the company as a whole while maintaining the high standards of services rendered.

Here is an example of cost calculation for 1000 240-litre containers

New containers
1,000 x PLN 100 net = PLN 100,000 net

User containers
1,000 x PLN 60 net = PLN 60,000 net

They prevent municipal services departments from incurring a significant loss of value of purchased products

Due to the fact that a new container becomes a used container only after its first use, our products allow you to avoid unnecessary losses and build a prosperous company based on effective management. For example, the cost of a new 240-litre container is PLN 90-100 net, and yet after the first day of use, its market value drops to PLN 55-60.

They are in a very good technical condition confirmed by a two-stage verification based on the Impex Quality Standard

The first stage of the verification process takes place even before we make a purchase from our suppliers. Each container is submitted to a thorough analysis carried out by the team of our skilful employees. They go to great lengths to check the compliance of each container with the Impex Quality Standard. The second stage occurs during the container washing process at one of our branches. Only when such a strict examination is complete, a particular container is approved and released for sale.

They support the idea of the second life for products, the sharing economy and also the implementation of the rules of the circular economy

For many years we have been the promoters of the idea of cooperation based on the sharing economy and acting on the basis of the circular economy rules because, as a company operating in the municipal services sector, we fully realize the significance of supporting the economy which uses resources in an efficient manner.
FUTURE TRENDS
Find out more about the solution which changesthe way the municipal services sector operates!
Download report
NEW QUALITY BY IMPEX
Find out about the
Quality Standard you can rely on
Our offer includes only the products made of the highest quality materials, which is the best guarantee of their long service life

Our cooperation is limited only to the most renowned producers in the world like Sulo, SSI Schäfer, Kliko, ESE, Contenur or Plastik Gogić

We pay particular attention to the condition of the main body, lid, comb lifting bar and centred castors

Each and every container of ours is clean, complete and fully operational

Our containers are in accordance with the currently applicable PN-EN 840 standard

Each container is recyclable
WHY US?
Why choose
products offered by Impex?
High product availability and fast delivery times

In our warehouse we are constantly storing about 30 thousand containers, thanks to which the average lead time is 9 working days

Free of charge delivery throughout Poland

For each order above PLN 7,000 net we provide free transport to the indicated address

Substantive support based on over 25 years of experience

Excellent knowledge of the municipal industry means that we are able to provide our clients with comprehensive support and advice at every stage of the process

Recommendations of our customers

We have been trusted by more than 1,500 municipal companies and municipalities all over Poland and numerous partners throughout Europe.

Flexibility and individual approach to customer needs

We always find the optimal solution to suit our customers' situation
RELATED
Related products and services
CONTACT WITH US
Do not hesitate to contact
our representatives.